Copyright © 2013, Steven E. Houchin. All rights reserved.
Shame on me for not following up my last posting on this subject from July 2011, where I teased about my real-life story of a letter I wrote in 1962 while in kindergarten. The letter, addressed in my child's scrawl, was returned to me by a cousin unopened in the spring of 2011. The story of its journey and what it contained was published by a local newspaper in the fall of 2011.
To finish the story here: I held onto the letter for several weeks without opening it, until I had the chance to get together with my sisters and we could all share in the surprise of what it contained.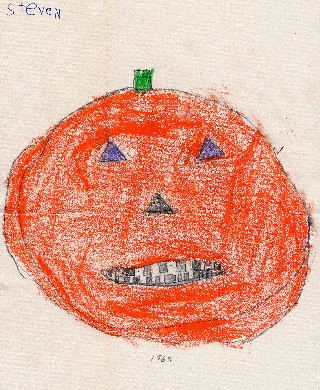 The postmark gave a small clue: October 31, 1962 - Halloween. What in the world had I sent my grandmother for Halloween?
While gathered around a table in a restaurant with my family, I carefully slit open the envelope with my pocket knife and pulled out a single sheet of paper that had been folded over twice. Unfolding it revealed a crayon drawing of a pumpkin with my name written at the top! As best I can guess, it was that day's kindergarten assignment, and my mother must have suggested we send it to her mother, who lived in a rural town about 30 miles away. Why grandma never opened it, yet saved it all those years is a mystery I'll never be able to solve.